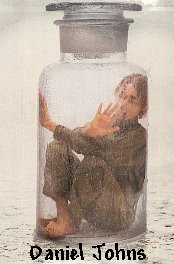 Full name: Daniel Paul Johns
DOB: April 22, 1979
Instrument: Vocal/Guitar
Pets: a dog named Sweep
Family: Father- Greg, Mother- Julie, Brother- Heath, Sister- Chelsea

* Is a vegan.
* Played the trumpet in grade school.
* Is in love with his dog, Sweep.
* Watches the Aussie soap "Neighbours".
* Got hit in the head during Israel's Son in Santa Monica.
* Was accused of stalking a prostitute.
* Doesn't go out much.
* Has been known to wear makeup.
* Got his dress torn off at a show, and had to finish in his briefs.
* Got his hair cut off because he hadn't brushed it in 2 1/2 years.
* Got taken into the police station for driving on the beach in Santa Monica.
* Once stayed with manager John Watson during a depression.
* Got drunk on bourbon with Ben. The next day all of Ben's hair was gone.
* Took a year of classical guitar training.
* Has watched 10 movies in his bedroom in one day.
* Moved into an apartment for awhile.
* Wrote over 150 poems while away from home.
* Then changed some of those poems into lyrics for Neon Ballroom.
* Is credited for the album concept of Neon Ballroom.
* Has moved back in with his family.
* Admitted to having an eating disorder.
* Doesn't see any other live shows while on tour.
* Kept his dog, Sweep, in the vocal booth with him while recording.
* Owns a PRS that was used by Page Hamilton of Helmet.
* Owns over 24 guitars, total.
* Was voted as best smile in his high school.
* Racked up a $1000 tab at a local video store.
* N Sync "tears him up".
* Drives a Jeep.
* Was accused of stalking an Australian woman in 1999.
* Bought a blue Mercedes for tax reasons.