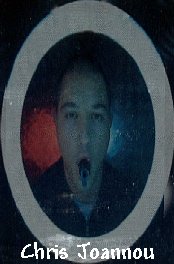 Full name: Christopher John Joannou
DOB: November 10, 1979
Instrument: Bass
Pets: 3 dogs. 1 named Khan, 1 named Gus, and 1 named Kira
Family: Father- David, Mother- Sue, Sister- Louise (twin)

* Rumored to have an older sister named Nicole.
* Once dyed his hair bright blue.
* Has been refered to as "Mister Motor".
* His sister Louise is his twin.
* Actually writes songs, but they are too "punk" to be sc.
* Used to wear glasses.
* Went to Thailand while on break.
* Helped couch his cousin's 7 and under soccer team.
* Owns a *HEAP* of Billabong shirts.
* 'Came up' with the name silverchair.
* Was the first band member to shave their head.
* Says his best subjects were lunch and recess.
* Once at an orange crayon when Ben and Daniel told him it was cheese.
* Was learning guitar but Ben and Daniel convinced him to learn bass.
* At one time had a goatee.
* Bought a used car so people in his town wouldn't think he'd sold out.
* Was the first band member to cut their hair.
* Listens to punk music.
* Has been getting more talkative during interviews.
* The only member that hasn't written a song's music all by themself.
* Youngest member of the band.
* Once accidentally spit on himself at a concert.
* His dog, Khan, is a German Shepard.
* His other dog, Gus, is a pug.
* The youngest of the 3 band members.